Blog
Posted by Christina on
If you've dabbled a bit in essential oils, you've noticed that there are a lot of different oils that have similar properties. Different oils can be carefully blended to maximize their individual capabilities, and these are called synergy blends.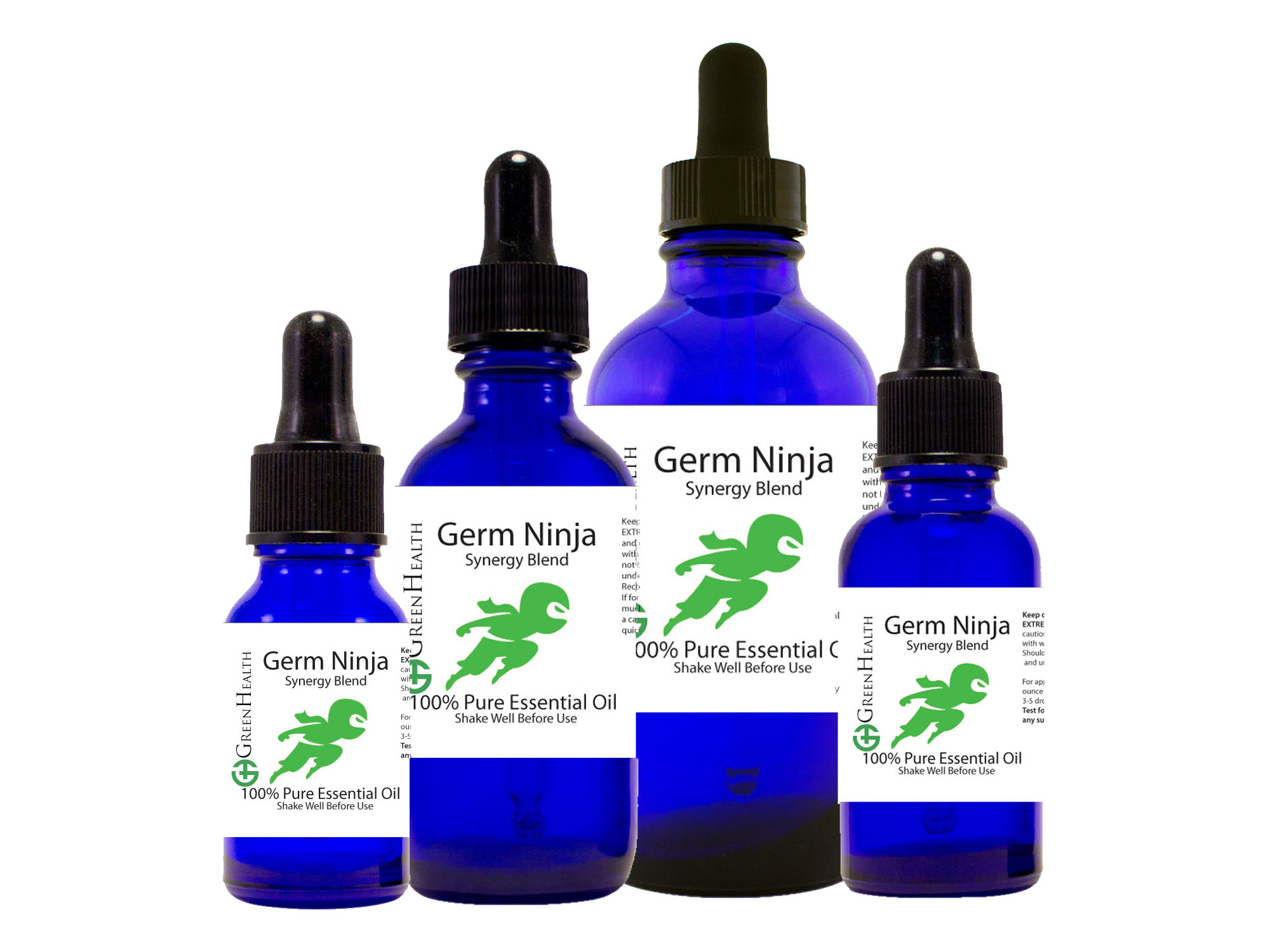 For example - tea tree and lavender are both antibacterial and are great for acne. Tea tree is also an anti-inflammatory and decongestant, while lavender promotes relaxation and healing. Mix the two together for a facial steam and voila! a synergy blend that is great for cleaning your pores and evening
out your skin tone.
There are tons of possibilities when it comes to synergy blends. Need one to brighten your mood? Try our Citrus Splash. Would you rather not suffer through those pesky headaches? Headache Magic does the trick. But possibly the most versatile, powerful, multitasking blend ever is our
Germ Ninja!
Seven impressive essential oils, all of which are incredible on their own, come together to fight germs and bacteria - keeping you and your family safe from things like mold, viruses and more.
You may have heard of the popular 'thieves' oil, and this Germ Ninja blend is comparable in strength and quality. This unapologetic destroyer of all things grimy can be used in a diffuser, as a topical application, for cleaning surfaces in your home, and so much more.
It would be impossible to list all the ways it can be used, but here are some common ways to use it every day:
Diffuse in your home for a warm, spicy aroma and to purify the air
Rub (diluted) into skin to release tension and muscle pain
Use as a spray wherever you need to deodorize, such as in your gym bag, car, shoes, laundry room, bathroom, garbage cans, etc
Put a few drops in an empty dishwasher or laundry machine and run it to clean out any sour smell,mold or mildew
Use a drop to remove splinters
Use with lavender hydrosol as a DIY hand sanitizer
Use it with a compress to reduce the symptoms of fever
Add 4 drops of Germ Ninja to 4oz of water in a spray bottle for an all over surface cleaner
Keep in mind that this blend is a concentrate, meaning that it should be mixed with water or diluted with a carrier oil before using. This is an extremely powerful blend, so you won't need much to get the job done. ALWAYS start with a small amount and add more as needed.
We recommend doing a patch test on surfaces and/or skin before using, especially on wood floors or sensitive skin.
We know you'll love this blend as much as we do! We would love to hear about all the different ways you use it in the comments.
Be sure to check out all of our new synergy blends, hydroblends and hydrosols. Now through August 31, 2017, you can save 20% on these new products. (Discount automatically applied at check out)
Germ Ninja

Synergy

Synergy Blends

Essential Oils

Thieves Oil

all purpose

deodorize

mildew

mold

sanitizer

flu

GreenHealth
Growing up as a ballerina, I always knew when a fellow dancer was in pain because the room would fill with the minty scent of Tiger Balm or BENGAY muscle rubs. Thankfully in my younger years I never had a need for the stuff, but I often wondered how something you rub on your skin [...]
Perhaps it was because my 50th birthday is just around the corner, but I found myself noticing small wrinkles and lines more and more each time I was looking in the mirror. To make matters worse, I also have adult acne with a side order of an obsessive compulsion to pick. Then again, it could be just a [...]
THE SEVEN COMMON WAYS OF USING ESSENTIAL OILS Get the most out of your essential oil product Below are some of the common applications of essential oils, such as using hot compresses, diffusers, or with hot water for inhalation. 1. Inhalations: The Standard dose is 10 drops. This method is best for respiratory and sinus issues, and headaches. Caution: prolonged [...]
If you're diving into the world of essential oils, and you're feeling in over your head, perhaps hydrosols are a better place to start. Even experienced aroma-enthusiasts can enjoy the simplicity of hydrosols.Hydrosols are a ready-to-use product, no dilution necessary! They have a water-like consistency and are commonly used in spray bottles. Make no mistake [...]
When the weather forecast says 90 degrees you get a free pass to rock the shortest shorts and skimpiest tank tops. But what about all those unsightly red bumps all over your legs, underarms and bikini area? Razor burn can make you want to trash those sun dresses and live in skinny jeans all year [...]
I recently had an opportunity to play around with my GreenHealth® Essential Oils from wfmed.com in a fun and easy DIY recipe for bath salts. I had been seeing recipes for this idea on and off and finally took the leap and tried one for myself.I am a huge fan of dollar stores and started [...]
Ah, summer is here again, and we associate sunshine and beachy blue skies with sweet, uplifting aromas like lemon, lime and orange. But wait! Unfortunately these essential oils (and a list of others) are photosensitive - if they aren't properly diluted before applying to your skin, exposure to sunlight and UV rays greatly increases your [...]
Essential Oils For Men -In honor of dads, this June we are introducing our new bundle set especially with the guys in mind. (Gals, you are gonna love this too!!!)Our newest set contains Juniper Berry, Cypress, Ylang Ylang and Bergamot essential oils, along with Avocado and Sweet Almond carrier oils, an extra bottle and eyedropper. [...]
DIY Citronella Candles with GreenHealth Essential OilsLevel: BeginnerNothing ruins a summer outing more than pesky bugs. When the idea of hanging out on the deck with friends, camping with family or even taking the kids to the park is hampered by having to deal with biting insects the entire time, our summer activities become [...]